02

03 04 05 15 16 19 20 21 22 23 24 25 26 27 28 31 32 33 34

The suitcases are unpacked, my washing machine is humming, and I am already knee deep in my regular life. I'm so thankful that I love my regular life!






Monday is houseblessing day around here, so as I was dusting and vacuuming, I decided to take a few pics of some of the vintage around our house. I have called my blog Vintage Farmwife, but so far, I haven't really shared much vintage. I don't want you all to think I am a vintage impostor!



This is our laundry room. I love my clothespin dress that my grandma made years ago. You hang it on the line and slide it around to make it handier to reach the pins. The photo above it is my grandma and her siblings and all their spouses. It makes me smile every time I look at it. I loved my grandma's jiggly arms and now I have them too. That doesn't make me smile!

The frame is around all the measuring marks my boys made through the years as they stretched trying to reach 6 feet or more. I just couldn't bare to paint over it, so I framed it! The light fixture is made from the old milk strainer my husband's parents used.

Before I pack all this away and decorate for March, I thought I would share our February fireplace.



I made a collage out of valentines that were my dad's and aunt's. My grandma kept EVERYTHING! I have a draw full of old valentines. Brady and Alissa decorated the tables at their wedding reception with engagement and wedding photos of their parents, grandparents, and great-grandparents. I drug them out to use on our mantel. I added my new favorite mirror, my bowling pins, and the wreath made by one of dearest friends.

That red wall has to go. Now.



I am in the process of redecorating. My decorating taste is changing and I want to go with an even more eclectic feel. This room best represents where I am heading.

I am not going to confess how slowly I am moving with this project!

Has your taste changed over the years? I'm curious if you are tired of the dark colors and ready for a newer more funky look too. Let's talk about it!

Hugs!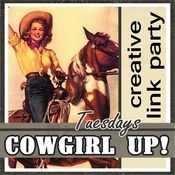 Labels: farm house, house love

35 36 37 38